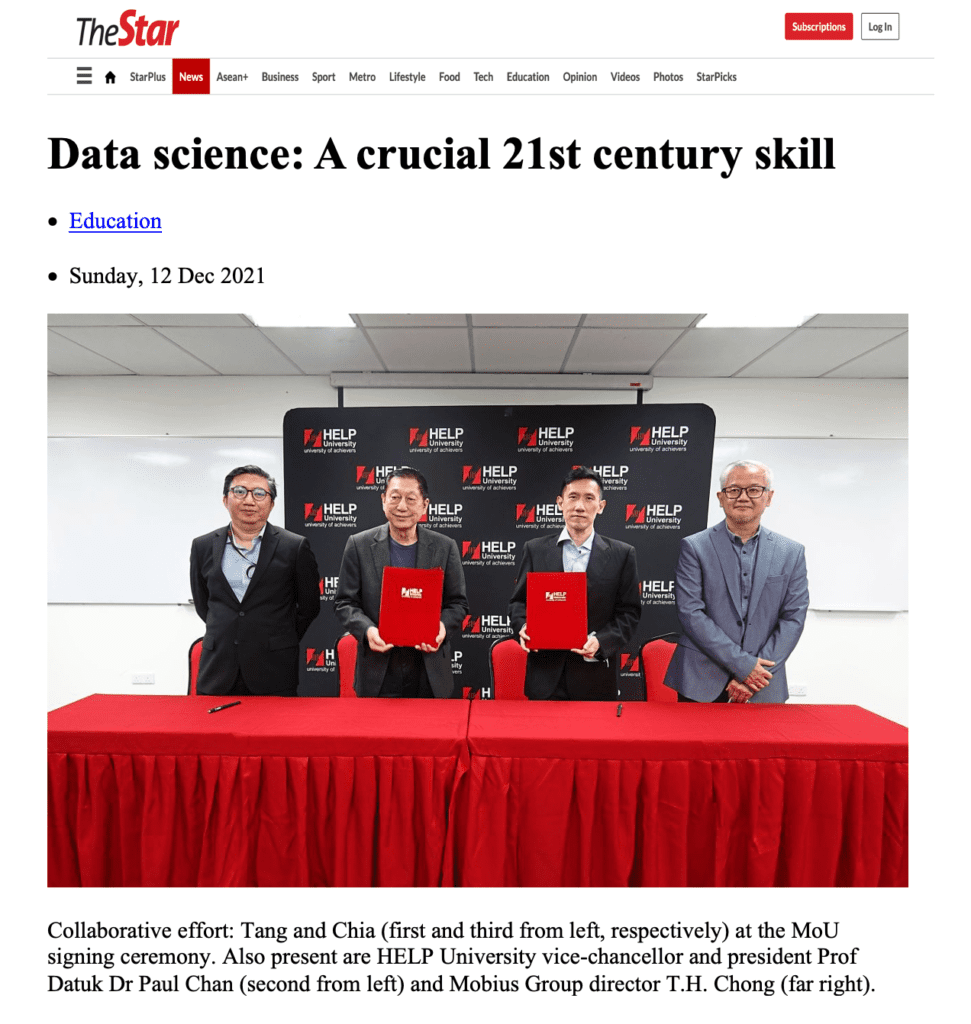 DATA science has become increasingly essential for one to achieve career and business growth in current times. With this in mind, HELP University and Mobius Group recently joined hands in kickstarting six short courses and webinars aimed at skilling and upskilling Malaysians on data science.
The series, which was conducted by panels of industry experts, attracted over 350 participants, from students to first-jobbers, employees to business owners and even lecturers.
The key objective of this initiative was to impart and elevate the understanding of data science, and its impact on career and business development, according to a press release dated Nov 29.Among the courses offered were Analytics with Excel 101, Analytics for Everyone, Data Transformation in Business and Evolution of Education.
Sabrina Ho, who attended the Analytics with Excel 101 course last month, wrote in her post-course feedback that it taught her the use of various tools such as pivot tables and visualisations to process and transform data much more effectively.
Mobius Group founder Dr Mark Chia said he is confident that the partnership with HELP University will help participants accelerate their adoption of data science and technology.
"We are well on track in our mission to help Malaysians level up their data science skills and apply the knowledge for career and business development. This is only the beginning of this important mission," he said.
HELP University Faculty of Computing and Digital Technology acting dean Dr Tang U-Liang said the collaboration underscores the importance of equipping every Malaysian with the "crucial skills to thrive in an increasingly competitive market".
"Data analytics is the required skill of the 21st century. These courses provide a very practical introduction to analytics.
"This emphasis on practical skills is in line with HELP University's National Upskilling Programmes (NUP)," he said, adding that the university's postgraduate programmes such as Master of Data Science are offered as part of the NUP at an affordable fee.
"The public not only can gain a postgraduate degree, but also a fantastic exposure to the industry by bringing problem statements from their own work situations as coursework assignments and working on industry-focused dissertations," he said.
For details on the upcoming data science courses, visit https://mobiusgroup.co/. To register for courses under HELP University's NUP, go to https://university.HELP.edu.my/nup-registration/.
Read more:
https://www.thestar.com.my/news/education/2021/12/12/data-science-a-crucial-21st-century-skill